Visit Tasso Island
Tasso Island lies at the heart of one of Africa's most precious wetlands, the Sierra Leone River Estuary.
The Eco Camp is open to residents and day visitors between September 1 and May 31 every year with daily sailings of the Gladi-Gladi. Bookings can also be taken from June 1 to August 31, but sailings maybe restricted during the rainy season.
Visitors are encouraged to come and stay for 3 days or longer, but day trippers from Freetown are also welcome.
When to Come
Our Tasso Island Camp site is open throughout the year - but with restricted services during the 3 month rainy season (from the beginning of June to the end of August).
From September to May (9 months) the weather is excellent. Occasional rain in September and October and in April and May but it generally only lasts for an hour or so. The temperature stays above 24° C throughout the day reaching 30 - 32° C at midday.
Skies are clear and sunny from November to April. Probably the very best time to visit is in December when there are crystal-clear days. In January, the Harmattan wind blows south from the Sahara, creating hazy conditions due to fine dust in the air, nights are also a little cooler but this in no way will affect your enjoyment of the Island.
Christmas and Easter are the most popular holiday periods for Sierra Leoneans who are returning from abroad and are looking for new things to enjoy, so early booking is recommended.
How to Get Here
Tasso (see 7 in map) is a true island and can only be reached by boat.
It lies one mile south of Pepel Island 6 (which is joined by a bridge to the mainland) and roughly eight miles from Freetown on the southern shore of the Estuary.
There are many ways of getting to and from the Island and we will be happy to make up individual itineraries for all our visitors. You can travel from:
Lungi International Airport

1

(we arrange pick-up, taxi and boat)
Or if you are already in Sierra Leone, by boat from:
2

Tagrin Public Beach on the Lungi Peninsula

3

Government Wharf Freetown and Murray Town Wharf

4

Kissy Terminal Freetown (also called Main Ferry Terminal)

5

Aqua Club Aberdeen

6

Pepel (as the access point from Port Loko)
Travel From Europe
Three airlines fly into Lungi International Airport from Europe:
KLM from Amsterdam Schiphol
Brussels Airlines from Brussels International
Air France from Paris Charles de Gaulle
For nine months of the year the Sierra Leone River Estuary is a smooth body of water although there are strong tidal flows four times a day which either speed up or slow down the time of crossing. However, during the rains (from June to early September) the estuary can be rough and this - combined with torrential rain and wind - can be an uncomfortable experience. Having said this, the Gladi-Gladi is a sea-going boat and can make the crossing in any weather. Consequently, the Kissy Camp remains open all the year round.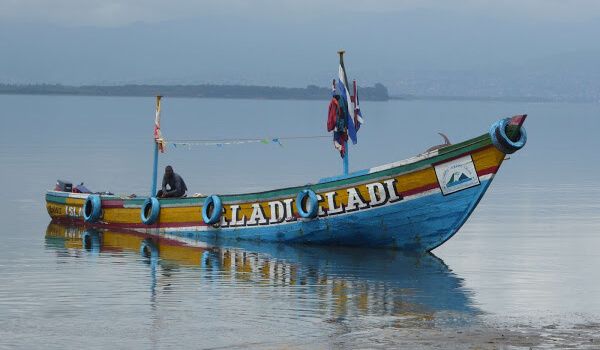 The Gladi-Gladi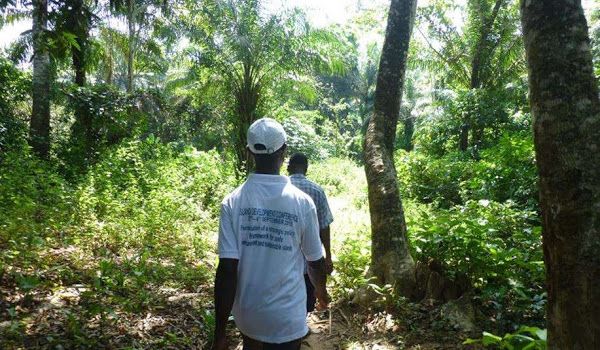 Forest walk
Cost
The Tasso Ecotourism Project is a not-for-profit community business and is providing accommodation and services for both international and local visitors: it has set its prices accordingly. Our primary objective is to make sufficient money to give permanent employment to our 20 staff members and to share any surplus with the islanders.
We have five chalets. Each has its own private bathroom and shower. All the chalets are very close to our lovely beach and close to our restaurant.
Chalets which sleep 2 people (1 double bed ) cost US $20 a night
Chalets sleeping 3-4 people (1 double bed - 2 single beds) cost US $25 a night
Cabins (which are smaller than chalets) with 2 single beds cost US$ 10 a night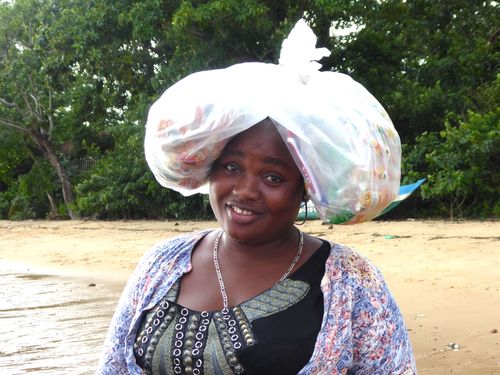 Musu
Our restaurant which is open from 7am to 10pm (07.00-22.00) offers breakfast, lunch, dinner and snacks throughout the day. Prices are comparable to those on the mainland ($4-5 for Groundnut stew/ potato leaves and other local dishes; $6-10 for Snapper / Barracuda / Spanish fish and rice or international dishes.
Our Accommodation
We have five spacious, wooden, beachside chalets each with: a double bed, mosquito net, en suite shower and composting toilet. All are close to our large, timber-framed restaurant built around the trunk of the Baobab tree.
Ready soon, we will have a games room, a family chalet and some smaller, cheaper cabins set back from the beach.
Our wonderful restaurant is built around a Baobab Tree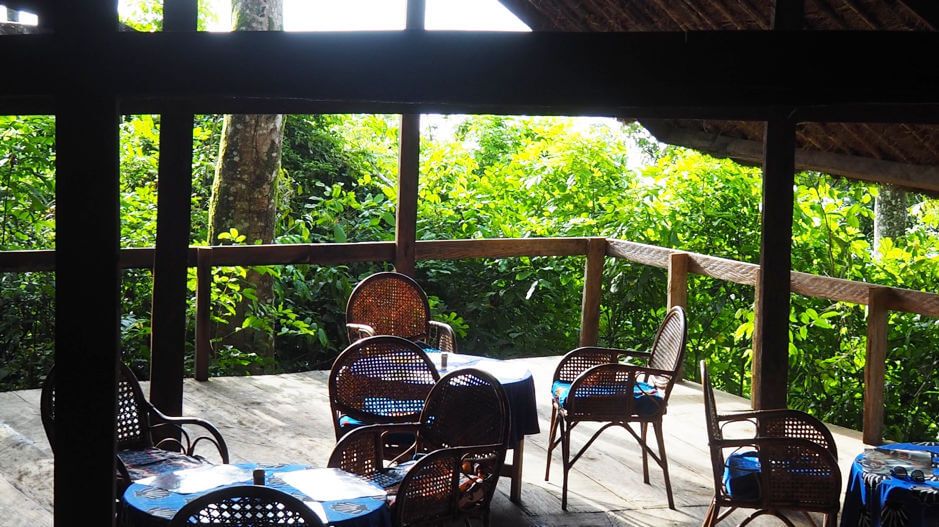 Our restaurant under the Baobab tree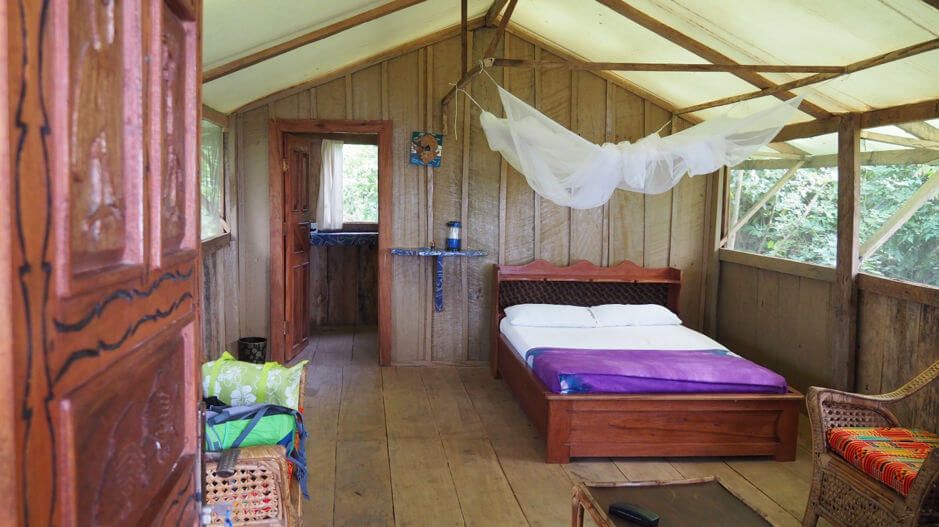 Inside one of our cabins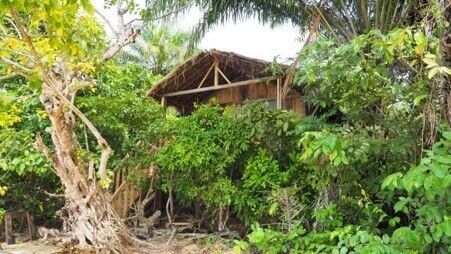 One of our cabins viewed from the beach
Things To Do
Half day Canoe Trips
Our canoes were built on Pepel Island and can be hired for a sea trip or outing to the Mangrove River, to see roosting birds at high tide and perhaps even the illusive "alligators". These trips are accompanied by experienced boat staff and guides and can include picnics and walks in the mangrove forest.
Island Walks and Rides
There is a network of small tracks and paths which link the four villages on the island. Ask one of the Camp Guides to join you in exploring the island on foot or by motorbike.
Bird watching and nature tours
For nature-lovers, Tasso is a great location for learning more about mangroves, mudflats and the birds and animals which frequent them. The camp is in the middle of an Important Bird Area (IBA) and RAMSAR site. We are working with the Conservation Society of Sierra Leone to train local guides who are knowledgeable about wildlife.
Enjoy an evening with our camp staff, their families and friends as they follow their own favourite entertainment of story-telling and dancing round a blazing fire. The island Secret Societies have a tradition of "masquerades" involving energetic drumming, dancing and jumping. The central figure in the dance is a "Devil" wearing raffia skirts and a grimacing mask. However, the name "Devil" is actually a corruption - introduced by the early missionaries - for the local name of "Spirit" which symbolised the natural deities (animist).
Island Sports
Bring the children and join in races on Kissy Beach - the boys and girls of Tasso are very competitive and love an outing to the beach.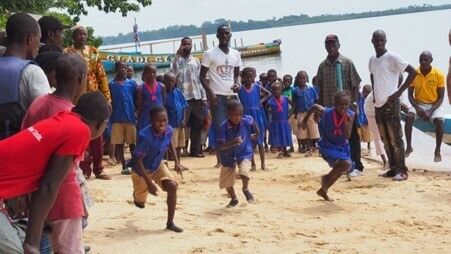 A race on the beach
Our Garden
A two minute walk to see the progress being made by our gardeners who are planting pineapples, bananas, cassava, melons, cucumbers, tomatoes, peppers and chillies. You can meet them and discuss the many challenges they face - but also their excitement and enthusiasm for trying new methods of cultivation with a shade house and drip irrigation.
Visas
You'll need a visa to visit Sierra Leone, unless you come from an ECOWAS country. See Visit Sierra Leone.
Health & Medical
Issues relating to health are similar on Tasso to those which affect all travellers to West Africa. Malaria is a common illness (although the dry conditions and sea breeze definitely reduce the presence of mosquitoes compared with the mainland). Typhoid also occurs.
It is very rare for people to be bitten by snakes, but they do exist and care needs to be taken when walking in the bush - especially with sandals or open toed shoes.
Tasso is an isolated location and it takes up to 2 hours to transfer any patient to a mainland hospital (the Government Hospital in Lungi or Connaught Hospital in Freetown). Consequently any visitor with existing health concerns should take this into consideration.
These health warnings should not put any traveller off visiting Tasso since it is better connected to the mainland hospitals and medical services than most rural locations in the provinces and our staff are well trained in first aid. In addition, the Gladi-Gladi Trust is assisted the islanders to complete the building of the Island Hospital and Medical Centre which opened in December 2018.
Clothing
There is no "dress code" or need to cover up for cultural reasons. Islanders wear jeans and tee-shirts or wrappers. We suggest T shirts, shorts and sandals for the beach and light-weight hiking boots or trainers for walking or touring the interior. Some people prefer long sleeves and trousers for protection from sun, vegetation & insects. You are likely to want a hat or head covering when out of the shade.